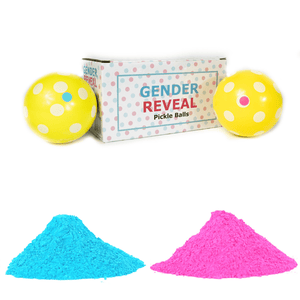 Gender Reveal Pickle Ball 2 Pack

We have thought of it all! Our newest addition is the gender reveal pickle ball. Each kit comes with 1 pink and 1 blue ball, making it super easy! 
Grab your paddle and step up to serve. Poof! Each ball is packed with powder, ensuring a nice big explosion of color!
Our color powder is made from corn starch and food grade color dye, making it completely safe! 
Be sure to remove the tape along the seam for best results. We add the tape to ensure optimal packaging so the item gets to you safely!
If you order after 12pm then add 1 business day to the quoted delivery date at checkout.

No overnight shipping, sorry!

Sunday is NOT a business shipping day.

Visit our 

F.A.Q.

 page for more information.
Ships same day if ordered before 12pm MST. We offer expedited shipping as well (FedEx 2 day Express) which delivers on Saturdays. This option is only available if you have just cannons in your order. If you combine with any smoke bomb products, FedEx Express is no longer an option and it will need to be shipped via UPS ground.